About Us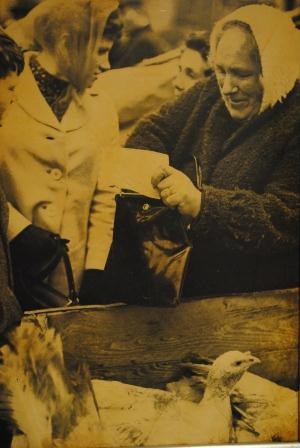 Hello,
My name is Adeline Breen and I am the owner of Edenaquin Turkeys. Turkeys have been in our family for generations, from as far back as the 1950's. My grandmother, Annie Roe, (pictured) raised turkeys on her farm in Co.Louth. She held a licence for the Stag Turkey. Customers would bring their Hen Turkeys to be serviced by the Stag. She passed on her knowledge and love of raising Turkeys to her daughter, Bridget (pictured). Bridget starting rearing a few Turkeys for herself and then started to sell off some of the Poults from Day Old up to and including the Christmas Market. This knowledge and passion was in turn passed onto me.
Having obtained more than 20 years' experience working in public & private industries and having achieved a First Class Honours degree in Marketing, I returned to my first passion, Turkeys, and so with the help of my parents, husband and siblings, Edenaquin Turkeys was hatched. I always loved working with Turkeys and with the hands on experience I gained throughout my youth it just made sense. We have now established a niche customer base throughout the island of Ireland, selling quality Turkey chicks from Day Old to 6 Week Old. We supply many different breeds of fast and slow maturing Bronze & White Turkeys, including the award winning Kelly Bronze & White Turkey Range. We also pride ourselves on an excellent after-sales service, if you run into problems with your Poults we will do our very best to advise or offer referral to a Department of Agriculture Poultry Vet.
I hope you will join the numerous customers of Edenaquin Turkeys and look forward to speaking with you in the near future.
Yours sincerely
  Adeline Breen